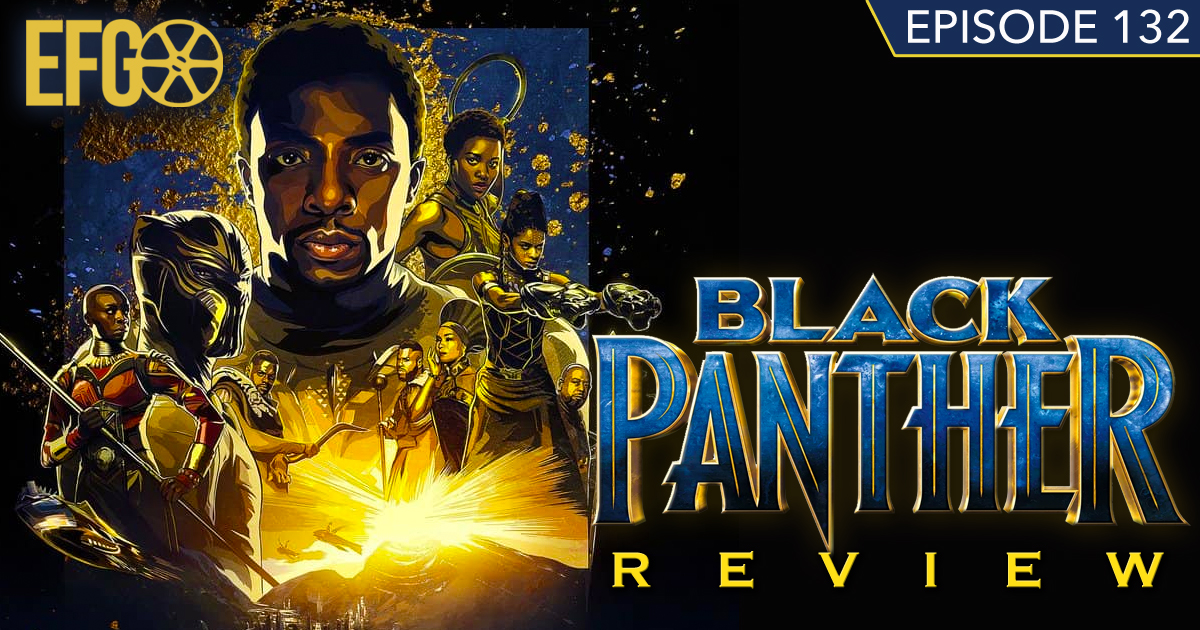 It's time once again ladies and gentlemen to review another Marvel film... we're here with a full review of Ryan Coogler's Black Panther, and thanks to Justin's poll that he stuck on the facebook page, Nick had no choice but to drag himself to a theater to see it. But the biggest question of all... did he like it, or is this just more MCU standard-fare?
Also this week, Epic Previews returns with a look at some trailers we haven't had a chance to review over the past couple weeks, from Solo: A Star Wars Story, Deadpool 2, and the new teaser for Venom. All this and craft beer talk and lots of fun being had as we're back in a normal format this week after a few weeks of other events. Next week on the show we're bringing you a full review of Alex Garland's Annihilation! Thank you all so much for listening! We'll see you at the movies!
We're now in planning for the Livestream for the Cure 2.0 and we're signing up guests for programming blocks on the show. If you're interesting in taking part in the event please sign up at https://drive.google.com/open?id=16iKIE0aTm-QyK0qiLo6bSLv406yvD0jsxNwmJs88o_8 and stay tuned to our Facebook page and the show for more announcements for the event. It will be starting on Friday, May 18th at 6:00 PM EST and we'll be doing 30 hours of live content up through 6:00 PM on Sunday, May 20th. We hope to see you there to help us raise money for this amazing cause.
Where to Find Us
We love Emily and the show would simply not be what it is today without this amazing woman. She has helped to guide the show and helped to influence its growth and we are forever indebted to her. If you don't already, please get over to http://thestorybehindpodcast.com/ and check out her amazing show. You will NOT regret it!
We cannot thank the fine gentlemen from the Master Debaters, the saltiest podcast in the world, for graciously stepping in to fill in for us on episode 130 of the show. If you enjoyed hearing them, you'll love their comedy show and their videos... check them out and please subscribe at http://radiomisfits.com/podcasts/masterdebaters/!
Toffa also hosts a movie podcast of his own called "Was it Worth it?" in which he and numerous guest hosts review films that Toffa has never seen and ask the ultimate question, "was it worth it?" Check it out at http://masterdebaters.podomatic.com/!
Apple Podcasts: https://itunes.apple.com/us/podcast/epic-film-guys-podcast/id1027239734
The Hobster's Dumpster: https://www.facebook.com/groups/epicfilmguys
Feed URL: https://epicfilmguys.podbean.com/feed/
Redbubble: http://www.redbubble.com/people/epicfilmguys
CafePress: http://http://www.cafepress.com/epicfilmguys
Wordpress: http://epicfilmguys.wordpress.com
YouTube: https://www.youtube.com/user/epicfilmguysny/live
We are now a proud member of the PodFix Network! Learn more by visiting www.podfixnetwork.com.
You can also catch us on most every podcatcher under the sun! Search for us on BluBrry, Stitcher, Spreaker, Google Podcasts, Overcast, and many others. Search and you will find us!
Meet the Epic Film Guys
Epic Film Guy Nick lives in upstate NY and graduated from Clarion University of PA in 2010 with a degree in English (writing). While in college he studied film as part of a film studies minor and made a couple short films. He handles the sound production and editing of the show as well as its release and manages the twitter account @EpicFilmGuys.
Epic Film Guy Justin lives in a suburb of Washington D.C. after moving from the Binghamton, NY area with his wife and daughter. He is our resident "encyclopedia of film" and chances are, if you've heard some film news, Justin already heard it before you. A massive fan of the 80s and horror flicks of all shapes and sizes! Catch him on Facebook or our Instagram account @EpicFilmGuys.
Learn the full history of the Epic Film Guys by visiting http://epicfilmguys.wordpress.com/about-us/.
Our Sponsors
Destruction in Human Form.
Director Brenic.
The Running Man.
The Resident Kaiju Expert.
G to the Erald.
Dumpster Juice.
The Dozer of Bills.
Our Brother from Perth.
Add your name to the list of the elites. For only $1 per month you get access to all of our exclusives and extended cut episodes! You'll also get free swag and our undying love for your amazing support, which will only help us grow. Learn how you can sponsor the show at https://www.patreon.com/epicfilmguys.
Friends of the Show
We'd like to give a huge shout-out for a lot of the shows we're proud to call friends, and that we're proud to call ourselves fans of. We especially have to thank our brothers in Perth, Paul & Wayne of The Countdown Movie & TV reviews, who have opened us up to a huge audience halfway across the world. Particular thanks to Paul who has been an amazing friend and has been infinitely helpful in terms of getting honest feedback on the evolution of the show. A huge thank you to Emily from The Story Behind podcast, whose support and friendship have kept this show alive through some of its darkest days. A huge thank you to some of our biggest podcasting friends, from Mr. X at the Angry Old Man, Shane from Now That I'm Older, David from The Unwritable Rant, Adam from Everyone Has a Podcast, Ro from the World of Ro, the entire crew at Afterburn 739, Mat at the One Word, Go! show, Justin from So I Married a Movie Geek, and Deana from the Twisted Philly podcast. We're probably forgetting someone, so thank you to ALL of you! We truly do love and appreciate your support.
We also have to give a huge shout out to #PodernFamily for helping to increase our exposure, and safe to say without it we wouldn't have met a lot of the podcasters and fans we're proud to call friends. We also want to give a huge shout out to the #MoviePodSquad, a group of movie podcasters in the #PodernFamily who have come together for our mutual love of film.
Recent Appearances & Crossovers
You can hear a full-length bonus episode of the Epic Film Guys along with 46 other shows that contributed material to the Harvey Relief Podpack, organized by Houston native Justin Corbett from the Mindfudge Comedy Podcast. For a $10 donation, get this special episode and so, so much more while donating to those affected by the devastation from Hurricane Harvey. Find it at https://www.generosity.com/emergencies-fundraising/hurricane-harvey-victims-podcast-pack.
I had the honor of appearing over on THE SAUSAGE... the Miserable Retail Slave, one of the best comedy podcasts on the 'net. I joined Randy and Tom Coe from Jake & Tom Conquer the World and we had so much fun I think our sides split open. Give it a listen at http://miserableretailslave.libsyn.com/s05e32-love-is-a-warm-hand-or-how-randy-got-his-groove-back.
Justin and I had the pleasure of joining James and Podcast Rob over on the Something Something 'Cast to talk about our most-anticipated flicks of 2018. Check it out at http://www.somethingcast.com/?p=651!
Want to know about the origins of Epic Film Guys and my side-project, the RestauRant Podcast? I visited Perry & Lindsay Johnson over on the Podstuff Podcast! Give it a listen at https://thepodstuff.podbean.com/e/the-podstuff-ep5-restaurant-podcast/!
I visited the Rabbit Ears TV Podcast once again to join Ashlee for a love/hate review of GLEE! We love, we laugh, we rage, and we might shed a tear or two on our journey through this musical television show. Check it out at https://rabbitearstv.podiant.co/e/35ea4272d2ad0c/!!
Stand back, because things are about to get SEXY. In April 2017, Justin of So I Married a Movie Geek visited the show and we reviewed Fifty Shades of Grey... and now, we're reaching the CLIMAX. I visited he and his wife Krissy on their show and we reviewed Fifty Shades Darker and Fifty Shades Freed. We had a blast picking apart these disasters! Listen now at https://soimarriedamoviegeek.podbean.com/e/episode-196-fifty-shades-darkerfifty-shades-freed/!
Did you know that the PodFix network has its own original content? Check out PodFix Presents! I joined Tom Coe from Jake & Tom Conquer the World for a "Wizard Rewind" as we looked at a mega movie issue of the magazine from 2005! Listen in and subscribe at https://podfix.podbean.com/e/wizard-rewind-episode-6-mega-movie-issue/!
Credits
Epic Film Guys Intro written by Jordan Greene. Check him out on Instagram @jordangreenemusic and Facebook Jordan Greene Music, and look for Aviera coming soon!
Outro music "Redemption" by Mattia Cuppeli. Find this and subscribe to him on YouTube at https://www.youtube.com/watch?v=OVBpKlBveiI.
Play Now