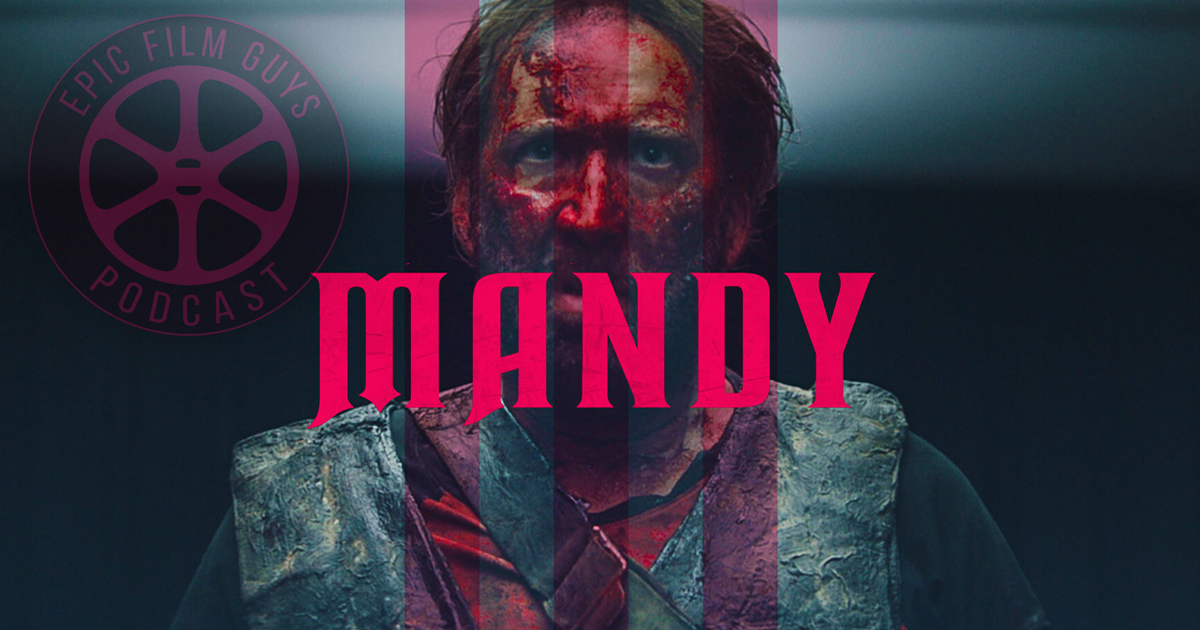 Welcome one and all to a brand new episode of the Epic Film Guys podcast! This week we are once again joined by the God of Podcasting, the Sauce himself, and he and Justin are here to talk about the House with the Clock in its Walls and, in our featured review tonight, a spoiler-free review of the insane Nicolas Cage film Mandy! You won't want to miss this review OR this film which is available on demand right now!
Patrons, once again you get to reap all the spoils this week including a pre-roll discussion of Joaquin Phoenix's Joker, more of our Mandy review, our Predator prize pack giveaway, a quick bit of Epic Previews to talk about the final trailer for Fantastic Beasts: The Crimes of Grindelwald, and Justin reviews the 4K transfer of John Carpenter's Halloween. Over an HOUR of extra content just for you to enjoy and remember, if you're not a patron, you can get access to all this for only a buck a month! Thank you all so much for listening!
Remember, we need Apple Podcasts reviews and we want to get to 150 by the end of the year! Find the link below and rate/review/subscribe to the show; when we hit 150, everyone who has left a review will be entered to win one of three $25 gift cards or numerous other prizes; just our way of giving back and saying thank you for your support. We'll see you at the movies!
Check out Justin's Michael Myers Halloween mask unboxing video at https://www.youtube.com/watch?v=xF1AUBSFga4.
Watch Justin and the SAUCE's reaction video to the new Halloween trailer at https://www.youtube.com/watch?v=ILrhlWNQQ0c!
EFG Fitness Challenge!!
Starting September 1st, you can join the EFG Fitness Challenge!!! For every 25 miles the community accumulates, I'll have to watch another movie that you suggest! You can also win prizes, compete in daily and weekly challenges, and best of all, you can get healthy. We'll also be selling shirts and other swag like water bottles branded for the event; all proceeds go to help Perry & Lindsay Johnson!
Please make a donation to Perry & Lindsay's GoFundMe to help them raise money for medical costs associated with Perry's cancer diagnosis: https://www.gofundme.com/hello-cancer-wtf?member=137506.
Where to Find Us
Want access to nearly a year's worth of extended episodes, special episodes, early releases, and tons of free swag? Join the growing family of EFG Patrons at https://www.patreon.com/epicfilmguys! Hundreds of hours of extra content and as much free swag as we can throw at you. What more could you want?
Apple Podcasts: https://itunes.apple.com/us/podcast/epic-film-guys-podcast/id1027239734
Spotify: https://open.spotify.com/show/7HLugZWXbUgT6DlkuVz93R
Google Podcasts: https://www.google.com/podcasts?feed=aHR0cDovL2VwaWNmaWxtZ3V5cy5wb2RiZWFuLmNvbS9mZWVkLw
The Hobster's Dumpster: https://www.facebook.com/groups/epicfilmguys
Feed URL: https://epicfilmguys.podbean.com/feed/
Redbubble: http://www.redbubble.com/people/epicfilmguys
CafePress: http://http://www.cafepress.com/epicfilmguys
Wordpress: http://epicfilmguys.wordpress.com
YouTube: https://www.youtube.com/user/epicfilmguysny/live
Twitch: http://www.twitch.tv/epicfilmguys
Discord: https://discord.gg/wMUjrtX
You can also catch us on most every podcatcher under the sun! Search for us on BluBrry, Stitcher, Spreaker, Google Podcasts, Overcast, and many others. Search and you will find us!
Meet the Epic Film Guys
Epic Film Guy Nick lives in upstate NY and graduated from Clarion University of PA in 2010 with a degree in English (writing). While in college he studied film as part of a film studies minor and made a couple short films. He handles the sound production and editing of the show as well as its release and manages the twitter account @EpicFilmGuys.
Epic Film Guy Justin lives in a suburb of Washington D.C. after moving from the Binghamton, NY area with his wife and daughter. He is our resident "encyclopedia of film" and chances are, if you've heard some film news, Justin already heard it before you. A massive fan of the 80s and horror flicks of all shapes and sizes! Catch him on Facebook or our Instagram account @EpicFilmGuys.
Learn the full history of the Epic Film Guys by visiting http://epicfilmguys.wordpress.com/about-us/.
Recent Appearances & Crossovers
I was thrilled not only to write another short play to be performed on the Angry Old Man Podcast, but I was also Mr. X's very first guest! Please check out this amazing episode at http://angryoldmanpodcast.com/angry-old-man-podcast-episode-195!
I took another trip to the West Coast to visit my arch-nemesis Justin Winters on So I Married a Movie Geek for another movie draft, this one focusing on 2000s Action Movies! It was an amazing show, please check it out at https://soimarriedamoviegeek.podbean.com/e/episode-214-fantasy-movie-draft-2000s-action/!
Allen of I Seen That invited me onto his show to talk about Jurassic World: Fallen Kingdom! Check out the video review at https://www.youtube.com/watch?v=kGvFOONeNnc!
I had the pleasure of joining Jake and Tom Conquer the World to talk about celebrities and personalities gone too soon. Please check it out at http://drunkendorkpodcast.libsyn.com/episode-106-campfire-chats-vol-ii-gone-too-soon!
Justin stopped and visited Pete from Podstalgic again, and this time the two discussed the 1986 film The Wraith! Give it a listen at https://hydratelevelfour.podbean.com/!
We were thrilled to head back to Perth to our brothers Paul and Wayne on the Countdown for a versus movie countdown, ranking the TOP TEN raunchy teen comedies of all time! You won't want to miss this one at https://thecountdownpc.podbean.com/e/the-countdown-vs-epic-film-guys-top-10-raunchy-teen-comedies/!
Credits
Epic Film Guys Intro written by Jordan Greene. Check him out on Instagram @jordangreenemusic and Facebook Jordan Greene Music, and look for Aviera coming soon!
Outro music "Gift" by Jonny Easton. Check out his amazing royalty-free music on YouTube at https://www.youtube.com/channel/UCHJVYelCXpsV8P4EVWBgj0A.
Play Now