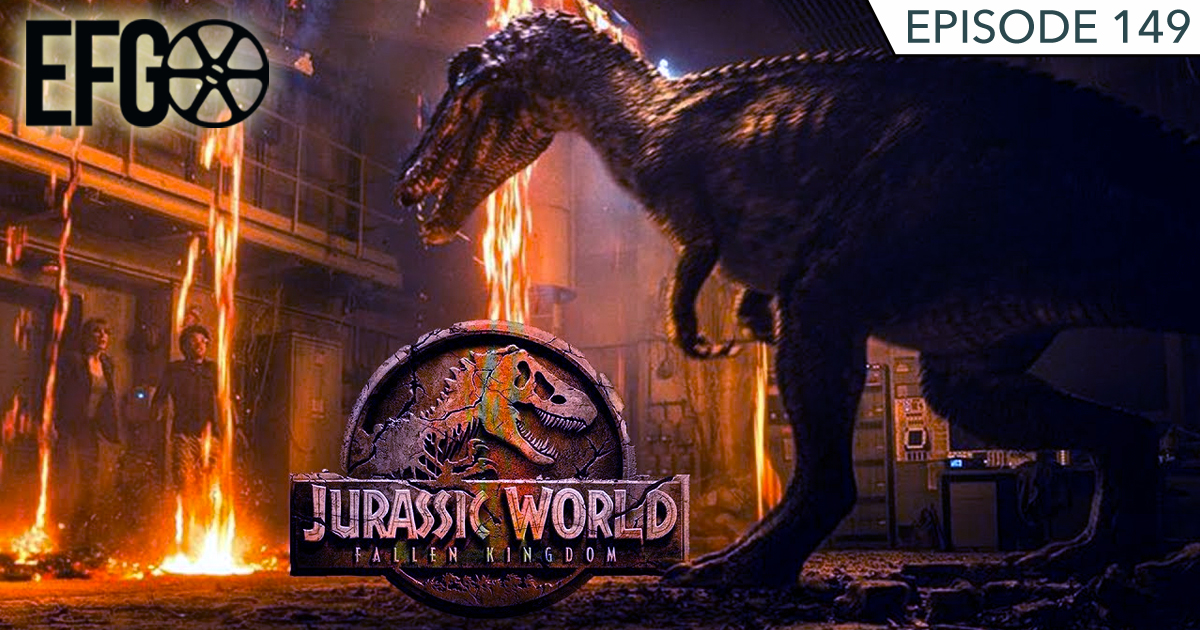 Hello everyone and welcome to a brand new episode of the Epic Film Guys podcast! This week, we are getting DEEP on J.A. Bayona's Jurassic World: Fallen Kingdom, a movie that infuriates Nick enough to directly tweet Colin Trevorrow with a lesson in Earth Science. We dissect everything about the film that did and didn't work for us with full spoilers!
Also this week, Nick signs up for AMC Stubs A-List and goes on a tirade against Movie Pass, and we take a look at the trailer for Creed II in Epic Previews, a film that our fans may remember that Justin was on set for a few months back.
In the patron-only segment this week we talk in-depth about the death of Vinnie Paul, drummer for the band Pantera, a band that influenced both of us deeply, and you'll get an extra ten minutes of our Fallen Kingdom review! For only $1 a month you get extended episodes every week, early releases, special episodes and more! Thank you all so much for listening! We'll see you at the movies!
Please make a donation to Perry & Lindsay's GoFundMe to help them raise money for medical costs associated with Perry's cancer diagnosis: https://www.gofundme.com/hello-cancer-wtf?member=137506.
A very good friend of the show, Rob of the Something Something Cast, lost his grandfather after a 14 year battle with cancer. Please make a donation if you can to this GoFundMe to help them pay for funeral costs: https://www.gofundme.com/help-getting-through-the-moment.
Where to Find Us
Apple Podcasts: https://itunes.apple.com/us/podcast/epic-film-guys-podcast/id1027239734
Spotify: https://open.spotify.com/show/7HLugZWXbUgT6DlkuVz93R
The Hobster's Dumpster: https://www.facebook.com/groups/epicfilmguys
Feed URL: https://epicfilmguys.podbean.com/feed/
Redbubble: http://www.redbubble.com/people/epicfilmguys
CafePress: http://http://www.cafepress.com/epicfilmguys
Wordpress: http://epicfilmguys.wordpress.com
YouTube: https://www.youtube.com/user/epicfilmguysny/live
Twitch: http://www.twitch.tv/epicfilmguys
Discord: https://discord.gg/wMUjrtX
You can also catch us on most every podcatcher under the sun! Search for us on BluBrry, Stitcher, Spreaker, Google Podcasts, Overcast, and many others. Search and you will find us!
Meet the Epic Film Guys
Epic Film Guy Nick lives in upstate NY and graduated from Clarion University of PA in 2010 with a degree in English (writing). While in college he studied film as part of a film studies minor and made a couple short films. He handles the sound production and editing of the show as well as its release and manages the twitter account @EpicFilmGuys.
Epic Film Guy Justin lives in a suburb of Washington D.C. after moving from the Binghamton, NY area with his wife and daughter. He is our resident "encyclopedia of film" and chances are, if you've heard some film news, Justin already heard it before you. A massive fan of the 80s and horror flicks of all shapes and sizes! Catch him on Facebook or our Instagram account @EpicFilmGuys.
Learn the full history of the Epic Film Guys by visiting http://epicfilmguys.wordpress.com/about-us/.
Our Sponsors
Destruction in Human Form.
Director Brenic.
The Running Man.
The Resident Kaiju Expert.
G to the Erald.
Dumpster Juice.
The Dozer of Bills.
Our Brother from Perth.
P STERM.
Bag o' Chip.
#ShutUpShampu.
Want free swag for a buck a month? Want your own sound on the soundboard? How about some shirts, stickers, and pint glasses? Access to hours and hours of extended content every single week, from longer cuts of episodes, our patron-only pre-roll, and much much more... for a BUCK! Learn how you can be one of the elites at https://www.patreon.com/epicfilmguys.
Friends of the Show
We've been members of the amazing podcasting community for a long time, and during that time we've run into so many incredible people who have kept us going and inspired us in countless ways, and we want to thank them and, if you're checking out our show, please consider checking them out as well!
Our brothers in Perth, Paul & Wayne on The Countdown Movie & TV reviews, who have been amazing supporters and friends almost since the very beginning. Paul in particular has been amazing in opening us up to an audience halfway around the world and really helped shape the show with his feedback. Find them at http://www.comicconpod.com/countdown/!
The incredible Emily Prokop of The Story Behind, who is also one of our oldest and dearest friends. Her knowledge of podcasting and help throughout our run has helped us in so many ways, especially in the show's developing audio quality. Find her incredible show at http://thestorybehindpodcast.com/!
Get your rundown on all things Netflix with my best friends Caleb and Dan on Netflix 'n Swill at https://www.netflixnswill.com!
Love comedy? Check out Randy and Tommy on the Miserable Retail Slave at https://www.miserableretailslave.com/.
Prepare to laugh with Adam and Bryon from Everyone Has a Podcast at https://www.ehappodcast.com/.
Check out the amazingly talented Mr. X on the Angry Old Man podcast at http://www.angryoldmanpodcast.com/.
Toss the rails out the window with Afterburn 739 at http://afterburn739.com/.
Check out three amazing Nicks and their show Fanthropological at http://thenickscast.com/.
Listen to the amazing stories of Juliette Miranda- produced by her amazing husband David the Producer- at http://theunwritablerant.libsyn.com/.
If you love true crime, you've got to check out the amazing Deana Marie at https://twistedphilly.com/.
Listen to the amazing and inspirational Heather on Sunshine and Power Cuts at http://sunshineandpowercuts.com/.
Give a listen to two of the most wonderful podcasters and people I have ever met, Perry and Lindsay Johnson, at https://www.hellolifewtf.com/ and at https://thepodstuff.podbean.com/.
If you're a fan of role-playing, check out LootQuest by Bryan Shampu! It's an amazing show that you can hear at https://lootquest.podbean.com/.
Listen to my arch-nemesis (and great friend) Justin Winters and his wife Krissy on So I Married a Movie Geek at https://soimarriedamoviegeek.podbean.com/.
Movie-mash-ups done beautifully are what you'll get on Who Spiked the Puns? with Fuzzy Dan and John! Listen at http://whospikedthepuns.com/!
Jake and Tom Conquer the World features two amazing podcasters taking over the world one show at a time. Listen at http://drunkendorkpodcast.libsyn.com/!
There are countless others who have positively impacted us along the way as well, and we are deeply indebted to them for their amazing influence on our show and in the community. Check out the hashtags #PodernFamily, #MoviePodSquad, and #WLIPodPeeps for more amazing indie podcasters. We were also members of the Podfix Network, which is a wonderful group of shows you can find at https://www.podfixnetwork.com/.
Recent Appearances & Crossovers
I appeared on the Sunshine Summit 2018 hosted by Heather of the Sunshine & Powercuts Podcast. https://www.youtube.com/watch?v=dLG3pLmNB48 Give it a watch as I cook an Irish-themed burger live on the air!
I took a trip back to the Nickscast on Fanthropological and talked to Z, G, and T about Fad Foods! Give a listen to our great discussion at http://podcast.fanthropological.com/e/fad-foods-reconstituted-from-meat-flakes-and-delivered-in-a-cheeto-dusted-dorito-burrito/.
Our friend Dan of Netflix 'n Swill has started a new project called Trade/Off, where he and a guest co-host recommend a film for one another that the other hasn't seen. Check it out at https://www.patreon.com/posts/trade-off-full-17870006, where I recommended Full Metal Jacket and he recommended War Machine!
I was thrilled to join the fine gentlemen Jake and Tom over on Jake and Tom Conquer the World, where we discussed how to save the DCEU. http://drunkendorkpodcast.libsyn.com/episode-93-can-the-dceu-be-saved Give it a listen!!
The FIGHT is on!!! I was invited back to The Countdown with my good friend and brother in Perth Paul to count down the top ten movie fights/conflicts, but I was not alone! War was waged against my arch-nemesis Justin Winters of So I Married a Movie Geek! It was such a blast to listen to, please check it out at https://www.podomatic.com/podcasts/thecountdownmoviesandtv/episodes/2018-04-10T02_00_00-07_00!
I was thrilled not only to write another short play to be performed on the Angry Old Man Podcast, but I was also Mr. X's very first guest! Please check out this amazing episode at http://angryoldmanpodcast.com/angry-old-man-podcast-episode-195!
I took another trip to the West Coast to visit my arch-nemesis Justin Winters on So I Married a Movie Geek for another movie draft, this one focusing on 2000s Action Movies! It was an amazing show, please check it out at https://soimarriedamoviegeek.podbean.com/e/episode-214-fantasy-movie-draft-2000s-action/!
Allen of I Seen That invited me onto his show to talk about Jurassic World: Fallen Kingdom! Check out the video review at https://www.youtube.com/watch?v=kGvFOONeNnc!
Credits
Epic Film Guys Intro written by Jordan Greene. Check him out on Instagram @jordangreenemusic and Facebook Jordan Greene Music, and look for Aviera coming soon!
"World of Sea" by Underwaterbeats. Find this and more great royalty-free music at https://soundcloud.com/djtaxomusic! Listen now at https://www.youtube.com/watch?v=qzbzERbik60.
Outro music "Redemption" by Mattia Cuppeli. Find this and subscribe to him on YouTube at https://www.youtube.com/watch?v=OVBpKlBveiI.
Play Now