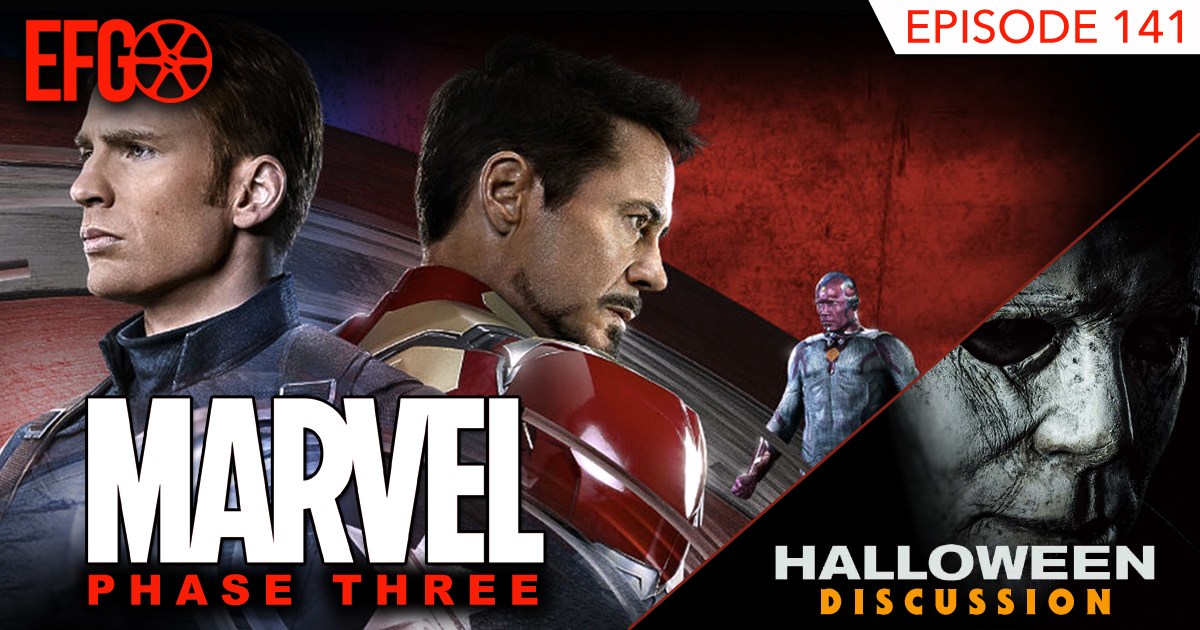 The Infinity War is finally upon us. This weekend, the ten-year journey that began with Iron Man in 2008 reaches its boiling point as all of the characters across the entire Marvel Cinematic Universe come together to face Thanos!
Before we get there, however, journey back through the MCU with us! Over the last two weeks we've dropped special minisodes that recapped our thoughts on phases one and two, and this week on the show we discuss phase three as well as some hopes for what we'll see in Infinity War. All this and this week, LoySauce and Justin discuss the new Halloween poster, and we've got two trailers in Epic Previews for Jurassic World: Fallen Kingdom and the brand new trailer for Venom! Thank you so much for listening... we'll see you at the movies!!
Livestream for the Cure 2.0 Event Info
Website: www.livestreamforthecure.com
The website is now LIVE and open for early donations! Please help spread the word so we can chip away at our goal in the weeks leading up to the event!
Email: livestreamforthecure@gmail.com
Twitter: www.twitter.com/livestream4cure
Event Programming: https://drive.google.com/open?id=16iKIE0aTm-QyK0qiLo6bSLv406yvD0jsxNwmJs88o_8
Facebook Page: https://www.facebook.com/events/745510965640010/
Promotional Material: https://drive.google.com/drive/folders/1d3BrADb8WT3_9_1taRv3oVXd9fem7O3D
Merchandise: https://www.redbubble.com/people/epicfilmguys/works/31185201-epic-film-guys-livestream-for-the-cure-2-0?p=classic-tee&rel=carousel
Starting at 6:00 PM EST on May 18th and ending at 6:00 PM EST on May 20th, we'll be livestreaming 30 hours of content featuring tons of other podcasters, stream games, interviews, movie discussions, RestauRant cooking segments, and so much more. Please join us live for the event and help to spread the word. Thank you so much for your amazing support! Together, we can make a difference!
Where to Find Us
Apple Podcasts: https://itunes.apple.com/us/podcast/epic-film-guys-podcast/id1027239734
Spotify: https://open.spotify.com/show/7HLugZWXbUgT6DlkuVz93R
The Hobster's Dumpster: https://www.facebook.com/groups/epicfilmguys
Feed URL: https://epicfilmguys.podbean.com/feed/
Redbubble: http://www.redbubble.com/people/epicfilmguys
CafePress: http://http://www.cafepress.com/epicfilmguys
Wordpress: http://epicfilmguys.wordpress.com
YouTube: https://www.youtube.com/user/epicfilmguysny/live
We are now a proud member of the PodFix Network! Learn more by visiting www.podfixnetwork.com.
You can also catch us on most every podcatcher under the sun! Search for us on BluBrry, Stitcher, Spreaker, Google Podcasts, Overcast, and many others. Search and you will find us!
Meet the Epic Film Guys
Epic Film Guy Nick lives in upstate NY and graduated from Clarion University of PA in 2010 with a degree in English (writing). While in college he studied film as part of a film studies minor and made a couple short films. He handles the sound production and editing of the show as well as its release and manages the twitter account @EpicFilmGuys.
Epic Film Guy Justin lives in a suburb of Washington D.C. after moving from the Binghamton, NY area with his wife and daughter. He is our resident "encyclopedia of film" and chances are, if you've heard some film news, Justin already heard it before you. A massive fan of the 80s and horror flicks of all shapes and sizes! Catch him on Facebook or our Instagram account @EpicFilmGuys.
Learn the full history of the Epic Film Guys by visiting http://epicfilmguys.wordpress.com/about-us/.
Our Sponsors
Destruction in Human Form.
Director Brenic.
The Running Man.
The Resident Kaiju Expert.
G to the Erald.
Dumpster Juice.
The Dozer of Bills.
Our Brother from Perth.
P STERM.
Bag o' Chip.
#ShutUpShampu
Want free swag for a buck a month? Want your own sound on the soundboard? How about some shirts, stickers, and pint glasses? Access to hours and hours of extended content every single week, from longer cuts of episodes, our patron-only pre-roll, and much much more... for a BUCK! Learn how you can be one of the elites at https://www.patreon.com/epicfilmguys.
Friends of the Show
We'd like to give a huge shout-out for a lot of the shows we're proud to call friends, and that we're proud to call ourselves fans of. We especially have to thank our brothers in Perth, Paul & Wayne of The Countdown Movie & TV reviews, who have opened us up to a huge audience halfway across the world. Particular thanks to Paul who has been an amazing friend and has been infinitely helpful in terms of getting honest feedback on the evolution of the show. A huge thank you to Emily from The Story Behind podcast, whose support and friendship have kept this show alive through some of its darkest days. A huge thank you to some of our biggest podcasting friends, from Mr. X at the Angry Old Man, Shane from Now That I'm Older, David from The Unwritable Rant, Adam from Everyone Has a Podcast, Ro from the World of Ro, the entire crew at Afterburn 739, Mat at the One Word, Go! show, Justin from So I Married a Movie Geek, and Deana from the Twisted Philly podcast. We're probably forgetting someone, so thank you to ALL of you! We truly do love and appreciate your support.
We also have to give a huge shout out to #PodernFamily for helping to increase our exposure, and safe to say without it we wouldn't have met a lot of the podcasters and fans we're proud to call friends. We also want to give a huge shout out to the #MoviePodSquad, a group of movie podcasters in the #PodernFamily who have come together for our mutual love of film.
Recent Appearances & Crossovers
Stand back, because things are about to get SEXY. In April 2017, Justin of So I Married a Movie Geek visited the show and we reviewed Fifty Shades of Grey... and now, we're reaching the CLIMAX. I visited he and his wife Krissy on their show and we reviewed Fifty Shades Darker and Fifty Shades Freed. We had a blast picking apart these disasters! Listen now at https://soimarriedamoviegeek.podbean.com/e/episode-196-fifty-shades-darkerfifty-shades-freed/!
Did you know that the PodFix network has its own original content? Check out PodFix Presents! I joined Tom Coe from Jake & Tom Conquer the World for a "Wizard Rewind" as we looked at a mega movie issue of the magazine from 2005! Listen in and subscribe at https://podfix.podbean.com/e/wizard-rewind-episode-6-mega-movie-issue/!
You want some CHILI? You'll never think about it the same way again after you hear Nick over on Who Spiked The Puns?, where he and host Fuzzy Dan mash up the Orson Welles classic noir film Touch of Evil with Paul W.S. Anderson's Resident Evil to create... Touch of Resident Evil! Listen now at http://whospikedthepuns.com/podcast/2018/2/28/episode-62-touch-of-resident-evil!
You like some Axel Foley? Head over to Via VHS where Justin joined Wes to talk about Beverly Hills Cop! https://viavhs.podiant.co/e/360b788d3ab450/ Listen now!
I joined my very good friends Dan and Caleb on Netflix 'n Swill for a one-star review of The Host, based on a book by Twilight author Stephanie Meyer. https://netflixnswill.podbean.com/e/episode-084-boy-do-we-hate-nick-now/ Listen now and find out how much they hate me now.
I appeared on the Sunshine Summit 2018 hosted by Heather of the Sunshine & Powercuts Podcast. https://www.youtube.com/watch?v=dLG3pLmNB48 Give it a watch as I cook an Irish-themed burger live on the air!
I took a trip back to the Nickscast on Fanthropological and talked to Z, G, and T about Fad Foods! Give a listen to our great discussion at http://podcast.fanthropological.com/e/fad-foods-reconstituted-from-meat-flakes-and-delivered-in-a-cheeto-dusted-dorito-burrito/.
Our friend Dan of Netflix 'n Swill has started a new project called Trade/Off, where he and a guest co-host recommend a film for one another that the other hasn't seen. Check it out at https://www.patreon.com/posts/trade-off-full-17870006, where I recommended Full Metal Jacket and he recommended War Machine!
I was thrilled to join the fine gentlemen Jake and Tom over on Jake and Tom Conquer the World, where we discussed how to save the DCEU. http://drunkendorkpodcast.libsyn.com/episode-93-can-the-dceu-be-saved Give it a listen!!
The FIGHT is on!!! I was invited back to The Countdown with my good friend and brother in Perth Paul to count down the top ten movie fights/conflicts, but I was not alone! War was waged against my arch-nemesis Justin Winters of So I Married a Movie Geek! It was such a blast to listen to, please check it out at https://www.podomatic.com/podcasts/thecountdownmoviesandtv/episodes/2018-04-10T02_00_00-07_00!
I was thrilled not only to write another short play to be performed on the Angry Old Man Podcast, but I was also Mr. X's very first guest! Please check out this amazing episode at http://angryoldmanpodcast.com/angry-old-man-podcast-episode-195!
Credits
"Requiem KV. 626" by Wolfgang Amadeus Mozart. 
Epic Film Guys Intro written by Jordan Greene. Check him out on Instagram @jordangreenemusic and Facebook Jordan Greene Music, and look for Aviera coming soon!
Outro music "Redemption" by Mattia Cuppeli. Find this and subscribe to him on YouTube at https://www.youtube.com/watch?v=OVBpKlBveiI.
Outro: "Far Beyond the Sun" by Yngwie Malmsteen. All Rights reserved.
Promos This Week: Talk Spooky to Me and Two Peas on a Pod.
Play Now