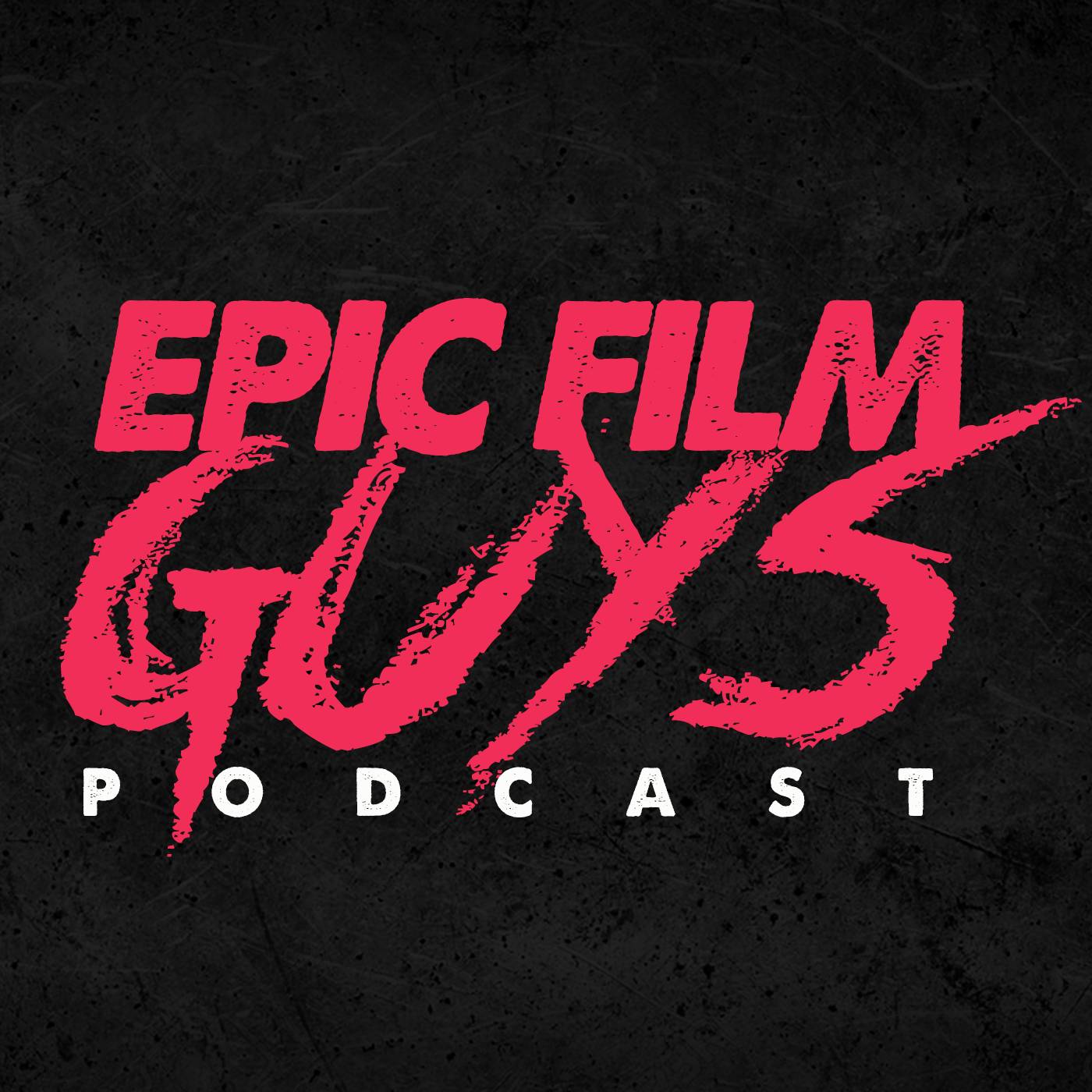 On this week's episode of the Epic Film Guys... HIATUS!!! After two years of weekly episodes, I've finally just reached a point where I desperately need to get some rest and a break from the show. I've still got our War for the Planet of the Apes and Dunkirk reviews as well as the megasode (episode 108) to be released, and they will see release in the coming weeks, but in the meantime I'm taking some much-needed time off from the show and we'll be posting up some EFG "Rewind" episodes in the interim.
For this first-ever EFG Rewind, I decided to go back to episodes 030 and 031 of the podcast where we held our first-ever fan celebration and answered YOUR questions from facebook and twitter. The celebration was hosted by Emily of the Classy Little Podcast (now the host of The Story Behind). I felt this would be a great opportunity for newer listeners to check out some older stuff that we put out, as these episodes are from about a year and a half ago. I clipped out everything but the actual celebration and added some new PodFix Network promos, as well as our featured actress, Viola Davis.
Stay tuned in the coming weeks for plenty of content coming from the Epic Film Guys, and we'll be back with brand-new content very soon. Thank you very much for all of your support, and we'll see you at the movies!
Where to Find Us
Visit www.epicfilmguys.com for our entire episode catalog and subscribe to us on iTunes at https://itunes.apple.com/us/podcast/epic-film-guys-podcast/id1027239734. If you're a fan of the show, please consider leaving us a five star review since that will help us climb further up the rankings and reach a wider audience.
We are everywhere across the vast reaches of the internet as the Epic Film Guys, including your podcatcher of choice and most social media platforms; just search for us and you'll find us. Want to subscribe via our RSS feed? Find it at https://epicfilmguys.podbean.com/feed/.
Get swagged out in your own Epic Film Guys gear by visiting our store at http://www.redbubble.com/people/epicfilmguys.
Along with our podcast reviews, Nick also writes full reviews for most of the films discussed on the show. You can find all of these reviews at http://epicfilmguys.wordpress.com!
You can now listen along with us as we record every single episode of the podcast LIVE! Check it out at https://www.youtube.com/user/epicfilmguysny/live and stay tuned for our next recording!
The Epic Film Guys are a proud member of the PodFix Network. We've proudly teamed up with a whole host of other amazing movie podcasts to work together to push for even bigger and loftier goals. Check out all the amazing shows in the network and learn more by visiting www.podfixnetwork.com.
Meet the Epic Film Guys
Epic Film Guy Nick lives in upstate NY and graduated from Clarion University of PA in 2010 with a degree in English (writing). While in college he studied film as part of a film studies minor and made a couple short films. He handles the sound production and editing of the show as well as its release and manages the twitter account @EpicFilmGuys.
Epic Film Guy Justin lives in a suburb of Washington D.C. after moving from the Binghamton, NY area with his wife and daughter. He is our resident "encyclopedia of film" and chances are, if you've heard some film news, Justin already heard it before you. A massive fan of the 80s and horror flicks of all shapes and sizes! Catch him on Facebook or our Instagram account @EpicFilmGuys.
Learn the full history of the Epic Film Guys by visiting http://epicfilmguys.wordpress.com/about-us/.
PodFix Network Promos
The Countdown reviews movies and TV shows in order of awesomeness so you don't have to. If you are not listening to this show you must rectify that immediately! Please check out our brothers from Western Australia, Paul & wayne, at https://itunes.apple.com/us/podcast/countdown-movie-tv-reviews/id979577413. Follow them on twitter @thecountdownpc.
Dan & Caleb of Netflix n' Swill are two amazing friends and supporters of the show, but more than that, their show is a hilarious look at what's coming and going from Netflix, full original series reviews, and the always-fantastic one-star reviews. Subscribe at https://itunes.apple.com/us/podcast/netflix-n-swill/id1142744188, and follow them on twitter @NetflixNSwill.
The Twisted Philly podcast is dedicated to the mischevious, the macabre, and the marvelous goings-on in the city of brotherly love. Join Deana as she tells stories of true crime, haunted history, Philly legends, and some amazing destinations for Philly natives and tourists alike. Check her out at https://itunes.apple.com/us/podcast/twistedphilly/id1145671529 and follow her on twitter @twisted_philly.
So I Married a Movie Geek is Justin & Krissy, a husband and wife enjoying movies an episode at a time. Justin subjects Krissy to all things film and hilarity ensues. These two are charming, and I promise you'll be hooked in an instant. Listen at https://itunes.apple.com/us/podcast/so-i-married-a-movie-geek/id376961643, and subscribe on twitter @MovieGeekCast.
Our Sponsors
We want to take a moment to give a huge thanks to our amazing supporters. By supporting the Epic Film Guys, you are helping us to get equipment upgrades and pay for hosting the show. A huge thank you and shout out to "Destruction in Human Form" Jarrod; Director Brenic & Caleb of Netflix n' Swill; Emily of The Story Behind; our resident Kaiju expert Robert; amazing friend of the show, Scott; and our good friend Justin of So I Married a Movie Geek. Want to learn how you can support the show and unlock exclusive content, uncut episodes and more? Visit https://patron.podbean.com/epicfilmguys.
Friends of the Show
We'd like to give a huge shout-out for a lot of the shows we're proud to call friends, and that we're proud to call ourselves fans of. We especially have to thank our brothers in Perth, Paul & Wayne of The Countdown Movie & TV reviews, who have opened us up to a huge audience halfway across the world. Particular thanks to Paul who has been an amazing friend and has been infinitely helpful in terms of getting honest feedback on the evolution of the show. A huge thank you to Emily from The Story Behind podcast, whose support and friendship have kept this show alive through some of its darkest days. A huge thank you to some of our biggest podcasting friends, from Mr. X at the Angry Old Man, Shane from Now That I'm Older, David from The Unwritable Rant, Adam from Everyone Has a Podcast, Ro from the World of Ro, the entire crew at Afterburn 739, Mat at the One Word, Go! show, Justin from So I Married a Movie Geek, and Deana from the Twisted Philly podcast. We're probably forgetting someone, so thank you to ALL of you! We truly do love and appreciate your support.
We also have to give a huge shout out to #PodernFamily for helping to increase our exposure, and safe to say without it we wouldn't have met a lot of the podcasters and fans we're proud to call friends. We also want to give a huge shout out to the #MoviePodSquad, a group of movie podcasters in the #PodernFamily who have come together for our mutual love of film. Look for even more crossovers and fun events with these and other great podcasters soon!
Recent Appearances & Crossovers
I was thrilled to join Adam from Everyone Has a Podcast and David from the Unwritable Rant Podcast for a cooking special of incredible proportions! Check out "Three Cocks in a Pot" at http://www.ehappodcast.com/poddy/cse1.
All month long (February 2017), Emily from The Story Behind focused on pop culture & history as pertains to Forrest Gump, and I joined her for the final episode of the month to talk about the film itself. Check it out here! http://thestorybehindpodcast.com/forrest-gump-forrest-gump-february-tsb038.
As you know we are huge fans of craft beer, and I joined the guys at Fanthropological (The Nickscast) to talk about my obsession with it! Listen in at http://podcast.fanthropological.com/e/20-craft-beer-fans/!
We were thrilled to take part in our fifth official crossover with the Countdown Movie and TV reviews to talk all things 1992 in film! The best and the worst! Please check out this amazing episode here: https://www.podomatic.com/podcasts/thecountdownmoviesandtv/episodes/2017-03-21T08_28_30-07_00.
A horror movie fantasy draft would've have been complete without our own Epic Film Guy Justin, so he joined Justin from So I Married a Movie Geek, as well as Chris & Shampu from Buds, Beers, Brutality, to draft 80s horror films! Please check it out at https://soimarriedamoviegeek.podbean.com/e/episode-159-fantasy-movie-draft-80s-horror-movies/.
I took a trip over to Fanthropological once again to talk about cinephiles! What is a cinephile? Do I consider myself one? Find out at https://podcast.fanthropological.com/e/33-cinephiles-ft-efg-nick/!
I was thrilled to be interviewed by Peter over at Smorgasbored about cinema etiquette and all sorts of fun, random stuff! Check it out! https://player.fm/series/smorgasbored/smorgasbored-interviewsan-epic-film-guy.
I joined Ashlee on the Rabbit Ears TV Podcast along with Justin of So I Married a Movie Geek to talk about one of my favorite shows of all time... LOST! Check it out at https://rabbitearstv.podiant.co/e/3540e316e1315aL/!
I had a great time joining Dave on the Super Movie Bros. podcast for their anniversary for an awesome game of "Never Have I Liked It," where you name a film you despise, and those who do not have to drink and explain why! We were also joined by Jon from the Now in Technicolor Podcast! Listen at https://supermoviebros.podbean.com/e/super-movie-bros-ep-50-anniversary-pt-2-never-have-i-liked-it/!
I filled in for Andy over on Two Peas on a Podcast and talked with Gerald about movies, current events, politics, and so much more! Check it out at https://twopeasonapodcast.podbean.com/e/036-we-deserve-a-tarantino-emoji/.
I had an amazing time joining Ashlee and Michael on the Rabbit Ears TV Podcast, this time to celebrate one of the greatest comedies of all time... Arrested Development! Check it out at https://rabbitearstv.podiant.co/e/3550570095903eL/!!
Credits
Epic Film Guys Intro written by Jordan Greene. Check him out on Instagram @jordangreenemusic and Facebook Jordan Greene Music, and look for Aviera coming soon!
Outro: "The Climb" by Music for Makers. Sign up and get a royalty-free song delivered to your inbox every Monday at www.musicformakers.com!
Play Now