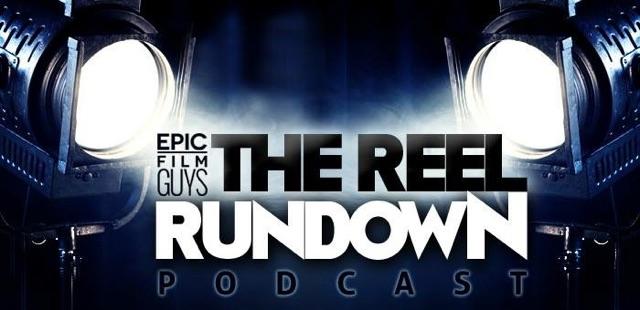 A 51-minute "mini-sode" this week as Epic Film Guy Nick flies solo, and we essentially bridge the gap between the Reel Rundown podcast and the re-branded Epic Film Guys podcast next week with our best (and worst!) of 2015 episode. As a nice treat to close out the year for you all, I decided to dip back into our video archives when Justin and I lived near one another and threw in the audio from some of our reviews from the earlier days of the Epic Film Guys. Safe to say that some things have changed, but some remain the same!
We do also discuss our new challenge for the month of January, thanks to listener Jarrod Taylor! We'll be doing "Just 90s January," where we invite you to pick ten films released in the month of January- five you have seen, five you haven't- and give them a watch. That's it! We look forward to more challenges in the future as well as awards season fast-approaches. I'll also take a moment to shout out everyone who participated in our Dust-it-off December challenge, along with our thanks for taking part!
---
How to find us:
If you are a fan of the show, please rate us on iTunes! Every positive rating will help us reach a wider audience. You can find us at https://itunes.apple.com/us/podcast/the-reel-rundown/id1027239734. You can listen to us each and every week on Stitcher, Spreaker, and over at https://epicfilmguys.podbean.com! Thank you as always for supporting us!
---
Friends of the show: 
Early in 2016, we'll be crossing over with our brothers in Perth, Paul and Wayne, over at the Countdown Movie and TV review podcast. I encourage you to check out their excellent podcast and rate them at https://itunes.apple.com/us/podcast/countdown-movie-tv-reviews/id979577413.
A huge shout-out and thank you to Emily and James and the Classy Little Podcast for their support, and I wanted to take a moment to recognize Emily's work with #PodernFamily, for keeping tabs on everything and most of all, keeping me informed. You can check them out and rate them at https://itunes.apple.com/us/podcast/classy-little-podcast/id1019422584.
Self-described as a "rocket powered shit show bus," Everyone Has a Podcast is hosted by Adam and Byron out of Alberta, Canada. Adam's hobbies include "Mailing animal shit to the Westborough Baptist Church." Check them out at https://itunes.apple.com/us/podcast/ehap-everyone-has-a-podcast/id964435478.
---
Other stuff:
Join the discussion about the latest film news over at http://www.facebook.com/epicfilmguys!
Follow us on Twitter (Nick) and Instagram (Justin) @EpicFilmGuys
You can find written reviews from Nick over at http://epicfilmguys.wordpress.com.
Play Now